The Cranial Therapy Centre
2 Carlton Street, Suite 1004 (parking details below)
Toronto, Ontario M5B 1J3
Phone: 416-971-4445
Email
We are located at the north east corner of Yonge and Carlton Streets, the building is directly above the College Subway Station.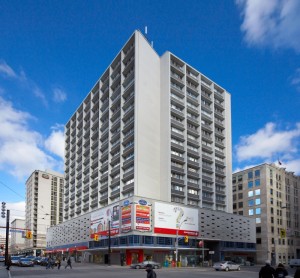 Parking
Indoor paid parking is available at the back of the building on Wood St, one block north of Carlton. A steep upward ramp entrance is the first driveway east of Yonge on the south side of Wood St. Elevators in the garage will take you up to our floor.
There are two signs at the parking lot entrance: one says "hotel parking" and the other is a BLACK P on a white circular background.
SATURDAY CLIENTS PLEASE NOTE – IT IS BEST YOU PARK ON THE STREET AS YOU CANNOT ACCESS THE BUILDING THROUGH THE GARAGE – YOU MUST ENTER FROM CARLTON STREET. 
There is also street parking on Carlton, College and Wood Sts. The Loblaws at Church and Carlton provides 90 minutes of parking with a $20 store purchase.
The side streets have free parking and the north side of Gerrard has metered parking.