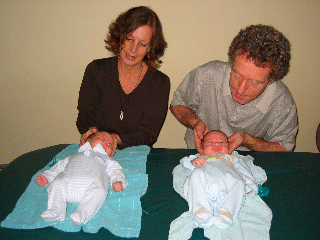 Welcome to the Cranial Therapy Centre!
Co-founded in 1987 by duo Robert Harris and Alix McLaughlin (partners in life and work), the Cranial Therapy Centre has a long history of successfully treating thousands of patients within the GTA community and surrounding areas.
Over the past few decades, our unwavering dedication to craniosacral therapy as an extraordinarily effective treatment tool, has enabled us to grow to become one of the largest craniosacral treatment centres in North America. The Centre functions as a craniosacral therapy-focused treatment clinic and as a teaching and training centre.  Our courses are held at Riverdale Hub, 1326 Gerrard St. East, Toronto ON M4L 1Z1
As both a hub of activity for treatments and teaching within the community, the Cranial Therapy Centre strives to provide a healing environment where anyone can learn and experience the tremendous applications and benefits of craniosacral therapy.
Robert Harris' article in Massage Therapy Magazine, Spring 2010.
Our Location:
North east corner of Yonge and Carlton Streets.
2 Carlton Street, Suite 1004, Toronto, Ontario
Phone: 416-971-4445
Email: info@cranialtherapy.ca
Please call the office Monday to Friday – 8:30 – 4:00 to book an appointment. We ask that you call in to book an appointment as we do not handle bookings of appointments via email.
WE ARE A FRAGRANCE FREE ENVIRONMENT. PLEASE REFRAIN FROM WEARING PERFUMES DURING YOUR VISIT.
Our treatment hours are Monday to Saturday,  8:15 a.m. to 6:00 p.m. dependent upon the day and the therapist.
PLEASE NOTE –  On Saturday's, our front desk staff have the day off, and the therapists will be checking for messages from their scheduled clients only.
Additional messages left on the answering machine on Saturday will be returned on the next business day.